"I am a storyteller with a broken story" confesses Anselm Kiefer. His monumental retrospective at the Royal Academy spans forty years and chronicles his attempt to make sense of his German heritage. Kiefer's obsession with Holocaust remembrance and emphasis on rich symbolism from mythology, folklore, religion and alchemy to poetry and opera are what he is sometimes criticised for; occasionally labelled as sentimental and contrived. Call me impressionable, but for me his outright symbolism and its accessibility is precisely what draws me in to Kiefer's web of myth, memory and mourning.
The show begins with his late 60s early 70s series of himself performing the Nazi salute. These works signalled his arrival as a highly confrontational artist and led to him being misunderstood by some as Neo-Nazi. What followed was a lifetime of work which includes painting, sculpture and installations which intertwine recognisable iconography of German history, expose how compelling and seductive images of mythology can be and how, more dangerously, they can tap into the collective unconscious.
His early series of attic paintings feature his own attic studio, and with their theatrical wood grained texture they are the very stuff of German folklore reminiscent of Grimm's Tales, Norse Myths and ancient legends.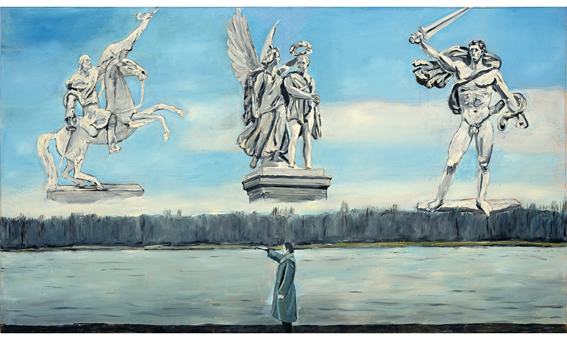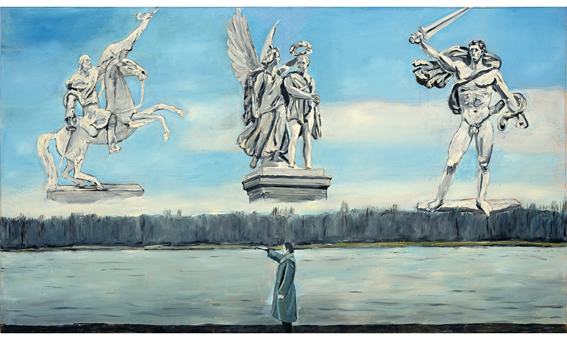 Moving through the gallery we're drawn in to the claustrophobic Margarete and Shulamith series. Paint is viciously handled, treated like earthly matter, the materials are sacred but appear gouged and destroyed like the lives of the heroic female victims they represent. Here too are representations of Van Gogh's sunflowers and wheat fields, now decaying and menacing.
Further massive canvases of forests and fields are encrusted with earth, clay, dried flowers, remnants of discarded clothing, even teeth. Layer upon layer of impasto paint cracked like the dried earth they represent, some depict paths though Teutonic forests, railway lines disappearing into unknown destinations alluding to German folk stories but also are powerful signifiers of the Holocaust.
Kiefer's Morgenthau series, despite being based on an abandoned American Government plan, awakens an aesthetic optimism. Drawn up in 1944, the original plan proposed to turn Germany into an agricultural state, effectively as a means to destroy its weapons industry and create a new pastoral idyll. References to alchemy, destruction and rebirth are themes Kiefer returns to time and again acting as a metaphor for human tragedy and rebirth … "creation and destruction are one and the same" he tells us.
With its wealth of symbolism the show is compelling and profound – it's on until 14 December, see it and unravel some of Kiefer's broken story for yourself.